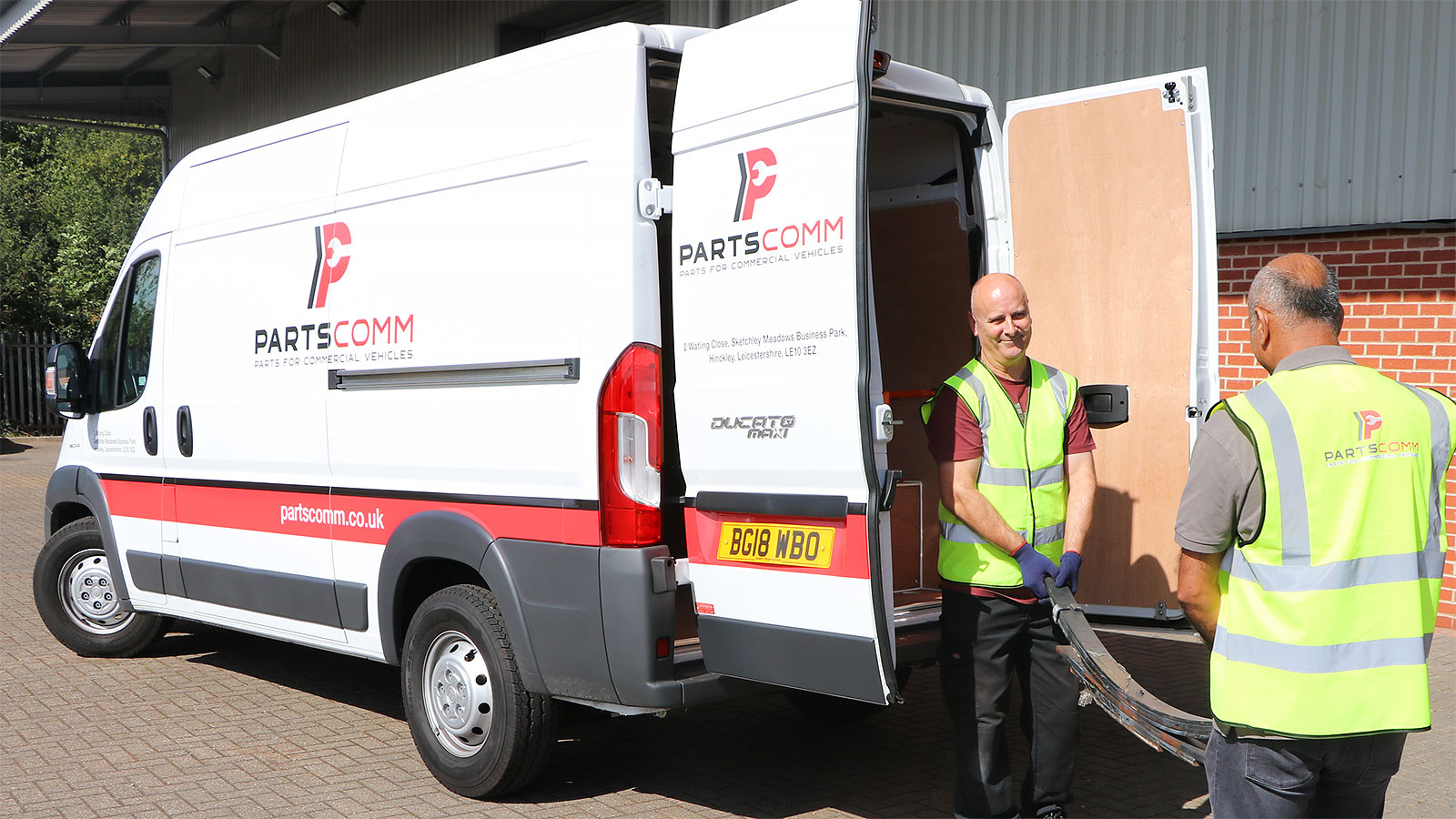 ABOUT PARTSCOMM
A new look into the world of parts for commercial vehicles. With a dedicated team of professionals, we pride ourselves on supplying you with the best quality aftermarket solutions for all makes and models. We stock a comprehensive range of replacement parts for many commercial van and truck manufacturers, including: DAF, Man, Mercedes, Renault, Scania, Volvo, and lightweight commercial vehicles. A professional company who provides a comprehensive range of ready-to-order quality, genuine parts. The range covers all brands and includes complex components through to everyday workshop consumables, tools, body panels and parts. Every product comes with a manufacturer-backed guarantee when fitted by an accredited technician. Operating in our brand-new warehouse located in Hinckley. Therefore, distribution will be supplemented by 13 existing centres and delivered by an operational fleet of dedicated vehicles.
A LITTLE MORE ABOUT OUR RANGE AND WHAT WE HAVE TO OFFER
Included below are just some of the product/product groups we can supply ensuring your vehicles are road ready at all times.
REPLACEMENT/OEM MIRRORS
Partscomm stock a huge range of replacement/OEM mirrors to suit all commercial vehicles. Therefore, all products are supplied by leading UK manufacturers and confirm to EU legislation. An overview of the range includes shatter resistant, wide angled, acrylic, safety and heated mirrors.
BLACKTECH AIR SPRINGS
We stock Blacktech air springs, which use modern technology and tailor-made engineering solutions.As the World's leading supplier of quality aftermarket air suspension products, with a purpose-built plant focused on excellence. The result is Vibracoustic CV Air springs that provides high quality and reliability across the commercial vehicle market, ensuring down time is kept to a minimum.
SHOCK ABSORBERS
All our ranges of shock absorbers for the commercial van and truck manufacturers. This includes DAF, Man, Mercedes, Renault, Scania, Volvo and lightweight commercial vehicles. They come with a 2 years manufacturer's warranty. We acknowledge the need to have your vehicle back on the road as soon as possible.
CALIPERS
Another product where testing and quality is key, is in the remanufacturing of our arduous Calipers coupled with great attention to detail. Only those components passing every stage of inspection and engineering, progress to completion. No corners are cut to reduce price or quality. The high standards set by our supplier ensure that all units meet the quality requirements of safety-critical equipment. This means for you the customer will gain a Caliper as good as new for a fraction of the price.
BRAKE PADS
A key product in the safe performance of a vehicle is brake pads. These are incredibly important to the running and safety performance of any commercial vehicle. Therefore, there is a tougher demand on commercial vehicle brake pads compared to standard cars and vans and need to be more robust. Our range of brake products offer exceptional value as well as meeting the most stringent safety standards for all the main HGV and truck manufacturers.
BATTERIES
Helping to get you started we provide a range of batteries with a 99% coverage of the commercial vehicle parc from a number of renowned brands, including Varta. All batteries carry at least a 2-year warranty and have unique features and benefits depending on the model/type chosen.
Once you are on the move, we want you to get the best out of your engine and maximise its efficiency and life span. To dothis, it is critical to enhance engine performance and reliability through the optimum flow of clean air, oil and fuel separating the harmful from the useful.
To do this we provide a comprehensive range of filters that cover 98% of the vehicle parc. All are 100% OE spec, and we carry and extensive CV and LC filter range in stock meaning excellent availability. Continuing to ensure your engine runs efficiently commercial fleet lubricants ensure increased engine component life, reduced oil, fuel consumption and lower particulate emissions. This is throughout the arduous commercial vehicle environment.
Support products include advanced gearbox oils, axle and bearing greases through to specialist damping oils for suspension systems.
CLUTCHES
We offer a wide range of aftermarket clutches covering both light commercial vehicles and trucks for all vehicle brands and models. Our range of clutches include original specification parts including friction material, made from 100% new parts and made to the latest international quality and safety standards.We believe in quality, so all the products weoffercome with 12 months unlimited mileage warranty. Together with efficient back up and support to ensure we provideyou with the best solution for your vehicle.
We offer an extensive range of OE and Aftermarket trailer parts including kingpins, landing gear, lights, marker boards, brakes, axle and suspension, plus a range of load control equipment.
Our selection of emergency lighting products from rotating beacons to rotating Titan light bars is available off the shelf.Within the commercial vehicle lighting range we stock round style rear lamps, marker, outline lamps, stalk lamps, interior lamps and much more. All have the relevant R10 and ECE R65 approvals.
IN ADDITION
We supply a range of products designed to promote safety and enhance security, including: camera solutions, digital video recorders, reversing camera solutions and reverse park solutions.
OUR MASSIVE RANGE OF CONSUMABLES INCLUDES
Assortments
Electrical fasteners workshop
P.P.E.
Chemicals
Storage
Tube and lube signage
Packaging
Teng tools
General tools
WE WORK WITH STUD EXTRACT
We can refurbish wheel hubs with the minimum of disruption. Stud Extract are leaders in HGV wheel hub services. They have their new products independently tested and certified to make sure they are comparable with the original manufacturer's equipment. And all the hubs are fully guaranteed and are fitted with FAG bearings as standard.
Working closely with our supplier partner Dinex, we supply a wide range of exhaust parts for trucks, light commercial vehicles and buses. Dinex represent a global marketing leader in the development of exhaust parts plus is a recognised quality brand amongst OE Manufacturers and end users.
NEW TO PARTSCOMM
A selection of commercial vehicle body, tail lift and dry freight roller shutter parts. We are able to provide spare partssuitable for Anteo, Bar Cargolift, Dautel, Dhollandia, MBB Palfinger, Ratcliff Palfinger and Zepro tail lifts. We can also supply roller shutter door parts to suit Whiting, Henderson Mobile, Ross and Bonnyman.